Today we ran the last part of our series of webinars under the theme AI-powered Search and Match: add value to a business under financial strain. Thanks to everyone who tuned in!
In this webinar Adrian Farthing and David Mercer discuss the difference between natural language ranking versus matched term hits, and how intelligent scoring and filters can truly create the best shortlist.
Would you like to find out how optimising your search can increase your team's efficiency? Are you spending too much time working outside your CRM and missing relevant candidates? Would you like to understand how candidates have been ranked – for instance why the top 5 candidates made it to the top?
What's covered in the webinar?
This 30-minute webinar gives you insights on how to find the best talents fastest, including how to:
Identify

the candidates your recruiters can't find

Generate a

shortlist

of relevant candidates faster

Reduce costs by identifying job board candidates who are already in your database
What are the main challenges?
When running a search, if you get too many results returned​ you may wonder which ones are the most suitable for a role. It can be difficult to refine results effectively. If you can't filter down the results, you might go back to your search and make some changes, before wondering if your new search is too narrow and if you might be missing candidates.
When asked during the webinar what hinders them when sourcing candidates, 42% of attendees replied "too many results".
Poll results - What hinders you when sourcing candidates?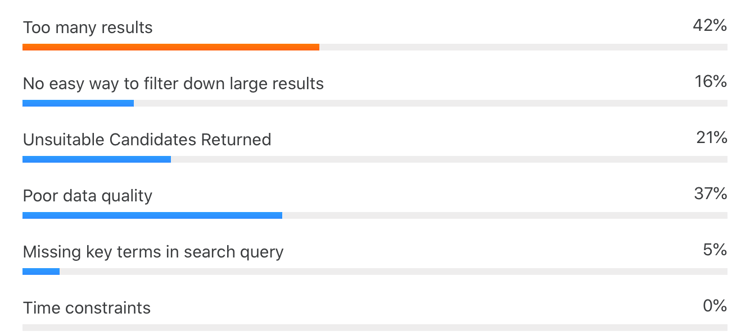 The potential implications of not using an efficient search tool can be poor ROI, more manual processes, lack of adoption, and increase spend on external sources​ (paying for the same candidate many times over​). This can lead to lost revenue​, a weaker pipeline​ and candidates dropping out​, therefore more at-risk accounts​.
How can DaXtra help solve these challenges?
Our goal is to help recruiters be efficient and save time. We make sure your consultants fill your clients' roles quickly and effectively. That's why our solutions allow you to filter down in order to further refine the results. We make sure you get the right data from the right source, and you're not wasting credits on job boards if the candidate profiles are already in your database. Ultimately, we help you retain and win new business, as you place the best candidates for the roles.
Searching multiple sources simultaneously
Our powerful search and match solution integrates directly with your database to allow your consultants to run one search over all sources simultaneously: your database, job boards and social networks. Time is key. By running one search across multiple sources and quickly shortlisting the best candidates, your consultants can focus on what the core of recruitment is - to build relationships with candidates and clients. We also track the source of the candidates to make sure you can easily calculate your ROI.
Intelligent ranking
In this webinar we show how to set up an intelligent search using our machine learning to find the best candidates. We intelligently rank candidates by relevance based on the context of their experience and skills rather than just the number of times a word appears in a CV. In a short demo, David Mercer shows how to start from a broad search across your database and job boards, before drilling down to find candidates with specific skillsets for the role.
Why does DaXtra rank candidates more effectively​?
Intelligently scoring the candidates based on context rather than term repetition (the difference between natural language ranking versus matched term hits)
Real term filtering​: further refine your results based on dynamic terms and pockets of skills to get the true shortlist​
Job board de-duplication and​ auto parsing: save money and make sure you have the most recent data​
As a result, we're able to automatically build instant shortlists of the relevant candidates for any given job, based on their experience, skills and the context in which we have found them.
Maximising the value of your database
Often the best candidates will already exist within your CRM, in which your business has invested significant time and money. We help maximise the value of your database and make sure you get a stronger shortlist faster, without the need to manually code candidates or learn complicated Boolean.
Do you have the right technology in place to help your team work remotely, have better conversations with candidates and spend more time engaging with them? Would you like to get better results faster while improving data in your CRM?
We look forward to answering any questions you may have.
Overview of the webinar series:
Webinar 1 (13th May): How does DaXtra search differ from a CRM's built in search capability?


Webinar 2 (27th May): Why Boolean searches belong to the past. How advanced search techniques have evolved from Boolean searches.

Webinar 3 (10th June): It's all about results - Identifying the best candidates fastest.