Almost since people began looking for jobs and putting pen to paper, there have been "resumes." And as long as man continues to look for work there will be some kind of record that will show who the job seeker is, what their skills are, what they're qualified to do and the position they are hoping to land.
But, trending lately is talk of the resume being a thing of the past. Is this idea founded?
What is a resume or CV?
A resume or CV, Curriculum Vitae – the term used in the UK, Ireland, Australia and New Zealand, is a person's record or documentation of qualifications and skills, typically submitted to obtain a job.
At one time a paper document was the form a resume took when job seekers were looking for work. But now, like everything else, paper documents are becoming a thing of the past and electronic files and online documentation are taking over.
The French word "résumé" means summary and that's basically what it is – a summary of your education and job experience, the skills you possess and the credentials you have. Are we talking about a hardcopy, paper document? No, not necessarily.
It really comes down to semantics, because the resume will continue in some form, as long as there are job seekers. It will evolve with technology.
Let's go back and take a look at the resume through time and region.
A brief history
Though some say resumes started with guilds in the middle-ages, the first official documented resume is said to have been submitted by none other than Leonardo da Vinci. As if this inventor didn't need another feather in his cap! His resume was in the form of a letter to the Regent of Milan detailing his achievements and skills with hopes of gaining patronage.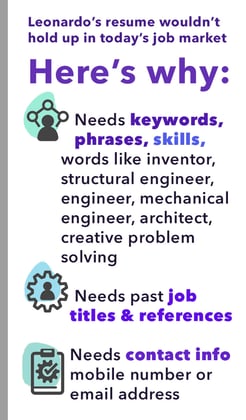 Though it was in the form of a letter, it provided what we would hope any resume would supply. It listed his skills and what he thought he could do for Milan. It was written specifically to the position he wished to attain and highlighted what the Regent was looking for. He got the job but, though fundamentally sound, his resume is not exactly what we look for in today's resumes. To see how it would fare, we ran it through the Daxtra Parser. Needless to say, because it's more than 500 years old and not quite up to today's standards, his resume didn't parse well.
For centuries some form of handwritten resume was used to obtain a position. It wasn't until the mid-ninetieth century when typewriters were marketed to the public that resumes began to take on a more standard form. Then typewritten summaries along with accompanying cover letters were used to show the mark of professionalism.
Each resume was typed out specific to the job being applied for. There was no duplication unless you had a sheet of carbon paper between the two sheets of paper you were typing on.
You would either hand deliver it or mail it to the company you were applying with.
It goes without saying that looking for a job was a lot different too. Leonardo may have heard that the Director of Festivities position was open or possibly he was simply cold calling when he sent his "resume" to the Regent of Milan. But around that time and later, you would have either heard of the job by word of mouth, or perhaps a posting or literally tacking a piece of paper on a wall or post in the town.
Later, with the invention of the newspaper printing press, jobs were posted in the newspaper. It wasn't that long ago that each Sunday job seekers would scour the "Want Ads" in search of the perfect job. Circling prospective positions, they would then go about typing their resume and a cover letter and sending it through the mail to various companies who had posted positions.
Technological developments
As technology began to develop, the typewriter became electric and then eventually was replaced by the word processor, leading to the PC. With each new development came advances in what you could do with resumes, i.e., easily correct errors, save and duplicate documents. You could actually type your resume once and then print it out as many times as you saw fit, altering it to suit each job you applied for.
You would still print a resume from your PC, and send it by snail mail. But you could also store it electronically, duplicate and customize it to fit each job.
You could fax your resume to companies seeking to hire or you might print out a batch of resumes and go business to business distributing to see if anyone was hiring.
Newspapers were still the media used to post jobs. And snail mail was predominantly used to respond.
The introduction of the next phase of technology gave us the World Wide Web, job boards and looking for jobs online. You could visit company portals and see what job openings they had.
Posting jobs online and searching for jobs online became the new thing to do, eventually making newspaper "want ads" a thing of the past.
With the evolution of the World Wide Web came email. So instead of physically mailing your printed resume, you would send the electronic document via email. Still including a cover letter and your resume.
Then the job boards evolved and you would post your resume and apply through the job boards or through company portals. Many times, in this era, you would not only apply online but were also expected to bring your paper resume to the interview.
LinkedIn made its debut and though slow at the start, eventually became a very important even indispensable means of an electronic summary of your work history and what you're actively doing in your job or career. It has become a means of networking as well.
The rise of mobile devices has led to an increasing number of people looking for jobs on their phones. They're not only looking for jobs but applying and creating resumes built on mobile resume apps and submitted while on the go.
The last few years saw an introduction of video resumes. Who knows what this trend could lead to in the future? With social media like Instagram and TikTok becoming mainstream along with mobile device video recording at everyone's fingertips, the future looks promising. The problem is parsing and dealing with volumes. But that's not an insurmountable problem.
Not only has the resume evolved through time, but it differs greatly from region to region. At least currently it does. I expect that as we globalize more and more, resumes will become more similar.
Resumes and CVs around the globe
In the US and UK, resumes and CVs are typically about one page and include the following information:
Name and contact information and may include social media links
Objective or summary
Education
Job history or experience
Skills
It may include training, social media links, language skills, certifications and licenses and awards and honors.
Beyond the UK, the rest of Europe is a little different. Their CVs generally follow a specific format. The Europass is a popular online CV builder template used throughout the EU. Its standardized CV format is available in 29 languages. The European CV contains information on education, training, work experience and skills and is typically 3-5 pages in length. Unlike the US resumes and even the UK CVs, the European CVs usually contain a photograph of the candidate
The Asian Pacific countries are each a little different. Some are much longer in length with photos and personal information. Criteria that would be absolutely unacceptable, even taboo in the US and UK, like religion, political party, marital status and number of children are generally expected.
Depending on the country you are creating a resume or CV for, differences abound and are typically reflective of the social behavior and the culture of that country.
Two types of resumes
Often job seekers have two types of resumes or CVs, a long version and a short version. The one-page short version of the resume is typically used in the US. But for academic purposes, the document is called a CV and is generally longer and more detailed.
Indeed notes that the difference between a resume and a CV lies in the length, content and purpose. "In the US a resume should be a concise and curated collection of your professional experience, skills and qualifications that are strictly relevant to the job you're applying for. In contrast, a CV presents an in-depth history of your professional and academic credentials and accomplishments."
The US isn't the only country that has two versions though.
In Japan, there are typically two types of resumes: Rirekisho and Shokumu Keirekisho. The general resume or Rirekisho contains contact information, education, general work experience and candidate information. The career-specific resume or Shokumu Keirekisho contains work history and skills. These two resumes go hand-in-hand but serve different purposes.
In Japan, a handwritten resume is still expected. The Rirekisho is typically handwritten, as the skill of writing is said to show volumes about a person. The hard-working effort is a valued quality there and holds weight.
Nuances in writing resumes differ from country to country. There are also numerous different types of resumes varying in length, formatting and information contained in the resume.
The essentials
As an integral part of the hiring process, the key goal of the resume remains unchanged. A resume is designed to succinctly give an overview, showcasing qualifications for a specific job category.
Video resumes and social media are great supplements, but employers may still want documentation of skills and qualifications.
No matter how they're broken down, or their country of origin, a resume or CV is just a track record of who you are, what you've done, what you're good at and where you want to go – the goal is to obtain a job.
Recruiters will use the document, no matter what format, as a precursor to an in-person meeting. It is a representation of you, and you will be judged on it.
Despite rumors that resumes are becoming obsolete, recruiters still need quick, easy documentation of qualifications. That said, the future of the resume looks secure.
---
For more about resumes and resume writing, please see our blog, "Resume secrets you need to know: Tips to get your resume through a parser"