A rapid increase in the population of Sciurus purpura, the illustrious purple squirrel, has been noted globally. Sightings up until recent times have been a rare occurrence.
Long rumored to be on the brink of extinction, the purple squirrel was once deemed to be only a fabled creature. It wasn't until several were located using DaXtra Search Nexus, an AI sourcing tool, that it was discovered that something curious was occurring. Was the population on the upswing? Or perhaps they were there all along!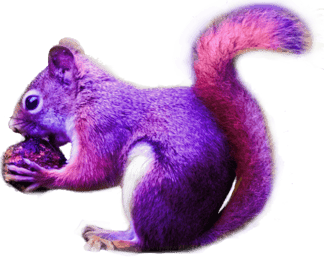 Where in the world?
Although thought to be extremely rare, purple squirrels are known world-over. Some of the oldest species were documented in the Asia-Pacific region in the 19th century. The UK has long-treasured the squirrel and the Royal Mint had even considered incorporating the creature's likeness on one of their coins.
The purple squirrel wasn't on the Americas' radar until the late great artist formerly known as Prince dedicated an album to them. Purple Reign ruled the radio waves in the 80s, celebrating the regal purple squirrel — and their popularity soared. But they still remained on the verge of extinction, or so it was thought.
Hidden in plain sight
A rare species is a group of organisms that are very uncommon, scarce, or infrequently encountered. This designation may be applied to the purple squirrel, but possibly only for a short time.
Since it launched in 2020, DaXtra Search Nexus has been detecting the coveted species of squirrel with growing frequency. Their numbers have grown so much that they may be taken off the rare species list. It's believed that the purple squirrel has been there all along, it is just very elusive, difficult to find or track down. "The new search technology in Nexus is a game-changer in the sourcing world!" says natural historian and purple squirrel expert, Dave Attenborough.
Could finding the purple squirrel be a common occurrence one day? Experts and sourcers worldwide resoundingly say, yes! With sourcing tools like DaXtra Search Nexus locating them, and DaXtra Capture rounding them up, it's likely that the rarity of this creature will soon become a thing of the past.
This leaves one question. Will the purple squirrel, known for being not only rare but perfect, take a back seat to the winged unicorn for being the most sought-after candidate species? Likely, but maybe only for a short time. With DaXtra's ground-breaking solutions, the distinguished winged unicorn may be discovered to be right within your own database!
To find out more how you can locate purple squirrels, contact the purple squirrel experts at DaXtra here.