A few years back, there was much talk in the recruitment industry that job boards had had their day. Even within the last 18 months, we've heard rumblings that job sites were on their last legs, particularly with the arrival of Google for Jobs.

However, when we surveyed US jobseekers at the end of last year, we found that this is not the case. Job boards are actually still very popular with candidates. We also found fascinating insights into candidates' relationships with LinkedIn and the role the platform plays in their hunt for jobs. The findings may not be what you imagine!

The death of job boards has been predicted prematurely
Our survey shows that job boards actually remain the most popular method of looking for a job, with 40% of candidates saying they would go first to a job board when looking for a new role.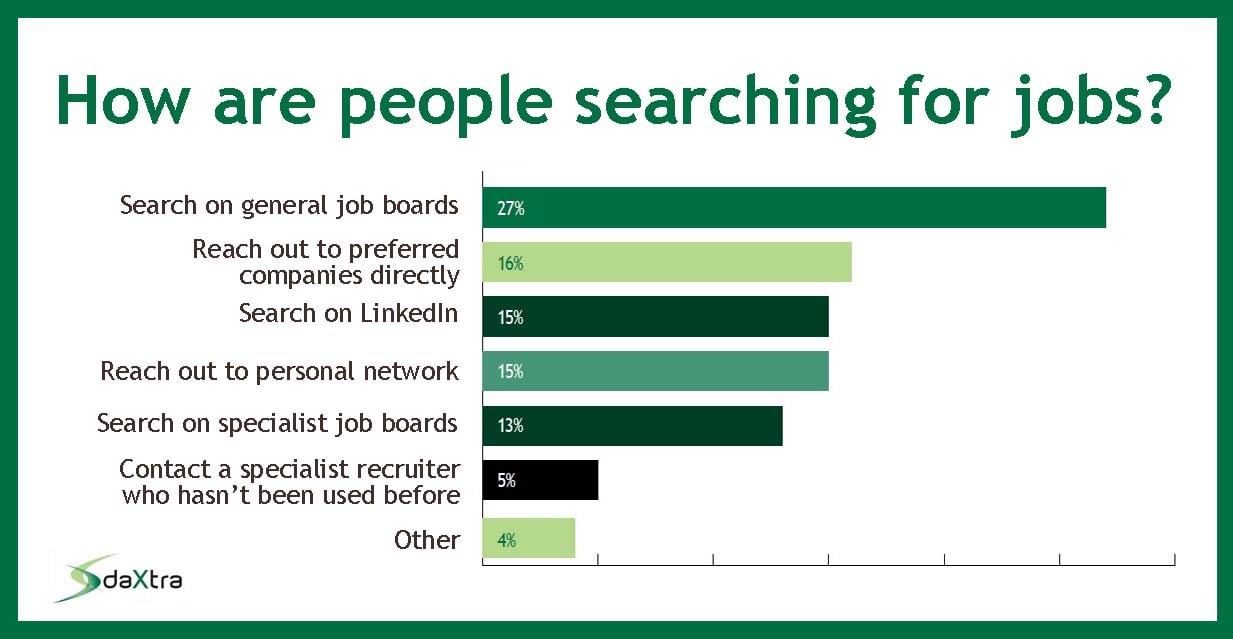 Of those who would use a job board, 27% would prioritize a general job board and 13% would visit a specialist job board as their first option. Meanwhile, the proportion of candidates who found their current role on a job board is an extremely healthy 20%.
Our research reveals that not only are job boards as important as ever, they are not at any risk of decline in the future, with younger people using them at the same rate as seasoned job hunters. We can clearly see there is a disconnect between industry perception and the reality of candidate preferences.

As Toby Conibear, Chief Commercial Officer, DaXtra Technologies comments: "Knowing where to find candidates, or understanding where candidates are looking for jobs, is one area recruiters need to understand. While much of the recruitment industry has been talking about the end of job boards for some time now, this research clearly shows that candidates still find them as important as ever."
LinkedIn: future of recruiting - or just hype?
So, with job boards looking in rude health, what of LinkedIn, seemingly beloved of candidates and recruiters alike?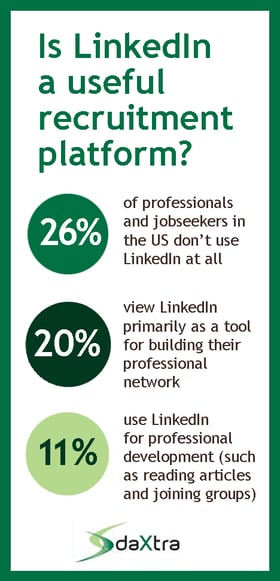 Most professionals in 2020 have a LinkedIn profile. But while the platform has become an increasingly popular professional network, it has yet to be seen by candidates as the best place to secure a job. In fact, only 21% of candidates say they would most likely use LinkedIn to look for job opportunities.

Recruiters also face a big dilemma when it comes to LinkedIn. If you've ever used the platform, you will no doubt have received a message from a recruiter. But this approach can be high risk, as only 4% of candidates say they want to hear from recruiters via LinkedIn. So caution definitely pays when contacting candidates this way.

However, candidates are not dismissing LinkedIn entirely, with 20% of professionals and jobseekers seeing it as a platform for promoting their credentials and growing their network. Another 11% use it for professional development, be that reading lists or joining groups. But it is worth noting that 26% of people surveyed said they don't use LinkedIn at all.
While it is likely that candidates may not primarily view LinkedIn as a recruiting ground, they do harbor FOMO (Fear Of Missing Out) about opportunities, and are eager to present themselves properly to potential employers. This is supported by the fact that 59% of candidates surveyed had updated their LinkedIn profile within the last three months. It seems appearances are everything!

But even if the bulk of candidates do not view LinkedIn as a job-seeking tool, those looking for a new job are more likely to be active on the platform than those not currently engaged in job searching. This is evidenced by our survey showing that only 14% of active jobseekers say they don't use LinkedIn, compared to 31% of passive candidates and 39% of those not interested in a new job.

Our research tells us that although candidates may not be using LinkedIn to search for jobs, they clearly see a benefit in being visible on the network for when opportunities arise. Toby Conibear comments: "LinkedIn has become increasingly popular among recruiters looking to actively source or engage with passive candidates. But clearly candidates are not approaching LinkedIn in the same way and see it as more of a way to promote themselves or grow their personal brand."

So, while job boards remain candidates' go-to places to find jobs, LinkedIn is more of a shop window for their professional talents and a base on which to build their network. To discover more about what candidates want from recruitment, download our US Market Research Report.