Market Research Report: The Candidate Experience – Perception Versus Reality
The dynamic of recruitment is changing – the candidate experience is more important than ever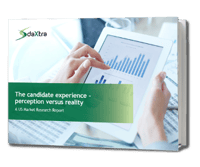 Over the last few years candidates have changed their approach to job seeking. As well as a pool of candidates actively looking for a job, another group is willing to consider moving for the right job. With recruiters also needing to engage these passive candidates, recruitment is changing.
The challenge for recruiters now is to create a candidate experience that is streamlined, efficient, and tailored to the expectations and requirements of individual candidates.
But what exactly do candidates expect during the recruitment process? And how does the real-life candidate experience match up to their expectations?
In our new report The Candidate Experience – Perception Versus Reality we surveyed 1,000 candidates to find out what they expected from today's recruitment industry, whether those expectations are being met, and the pitfalls recruiters should avoid to be successful in filling vacancies.
To get a full understanding of today's candidate experience, our report focuses on:
How candidates actively search for new roles
How candidates prefer to be contacted
The consequences recruiters face in failing to meet these expectations
The importance of creating a personalized experience
How technology is helping to create those experiences
Whether the idea of "company loyalty" is truly dead, particularly among younger workers
From looking at whether the death of the job board has been predicted too soon, whether social media is playing a more important role in job searches or what it takes to get candidates to leave their employer for a new opportunity, our report takes you through the entire recruitment process from the candidate perspective to find out how recruiters can overcome challenges and provide the kind of experience that candidates now expect.
Read the Market Research Report