As we move into 2023, we are starting to think about the sort of changes we might see in recruitment in the next year and beyond. In 2022, our candidate-driven market meant that recruitment agencies needed to place an even greater focus on candidate experience and recruitment marketing to stand out as brands that candidates would want to work with. Top talent will always be in demand but uncertain economic times might make this talent harder to find and recruiters may need to adapt the way they search for candidates.
In this article, we'll take a look at what we might expect to see when sourcing candidates in 2023.
Passive Candidates
While today's tight labour market isn't easing up any time soon, in times of economic change people might be less likely to leave their jobs and look for new opportunities. At the same time, just because they might not be actively looking for a role does not mean they would not be interested in another opportunity.
LinkedIn estimates that passive candidates make up 70-75% of the available market. Typically, current employees can be incentivised to change jobs due to better pay, more opportunities for career growth, and a more positive company culture. If companies are experiencing a skills shortage, making the most out of this hidden source of candidates is key for your business.
Developing your talent acquisition strategy to target passive candidates can give you a competitive edge. First of all, they are likely to have less attention from other recruiters, which increases the opportunity to place them into your open positions. They may also have 'job-ready' skills that are attractive to employers and may find it easier to transition into a role.
So, even if we are not seeing as many candidates looking for work, there are still potential passive candidates who could be a great fit for the role you are hiring for. You can find out more in our article on passive candidates that suggests the benefits of sourcing passive candidates and offers some tips on how to best engage with them.
Connected Recruiting
As you look to source candidates this year, your most productive resource will probably be your own database. In 2022, we started hearing a lot more on Connected Recruiting, as recruitment teams are focusing even more on attracting and nurturing long-term relationships with candidates.
Connected Recruiting is a methodology developed by Bullhorn that aims to keep candidates more engaged at every stage of the recruitment cycle. Many of today's candidates have grown up with technology, and so expect a digital consumer-like recruitment experience but still want a human and personalised interaction.
With these changing talent expectations, you may need to implement best practices that use automation tools to help you engage with the top talent. For example, you can attract more candidates by making it easy for them to find well-matched vacancies and submit their application.
Furthermore, staying in touch with candidates who did not make it through the interview process is a great way to keep your candidate data up to date and candidates engaged. You can keep unsuccessful candidates in the talent pool by finding out more about their skills and preferences, instead of letting them fall into the 'CRM Black Hole'. By keeping your candidate information up to date, you can connect with them for further opportunities and get more out of your marketing spend.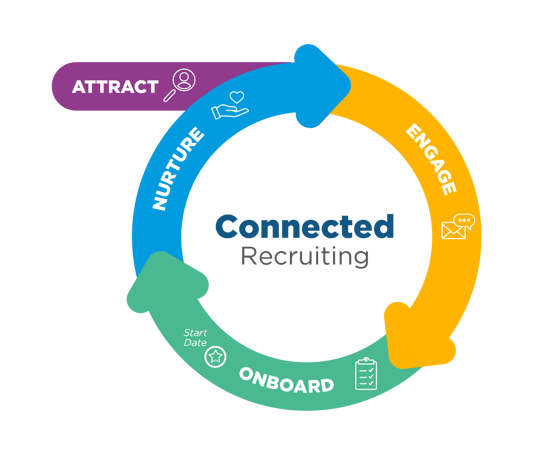 Image: Bullhorn's Connected Recruitment Lifecycle
To learn more about Bullhorn's Connected Recruiting, check out this webinar which features Daxtra's Chris Wirt on the panel.
Social Recruiting
Facebook has 2.91 billion active users that can be engaged through its 'Facebook Jobs' feature. LinkedIn reports that 6 people are hired through its platform every minute. 53% of active Instagram users follow and engage with brand pages.
With these statistics, it's unsurprising that almost 96% of recruitment teams are already using social media sites to post jobs, finding candidates through extending their network and reaching out to potential candidates using in-platform messages. However, in 2023 it might be even more important to leverage social media platforms like Facebook, LinkedIn, and Instagram to proactively attract talent.
We are anticipating even more passive candidates to form part of the recruitment market in the next year. Since social media is used by working professionals as well as job-seekers, it will be a fantastic source of passive candidates with up-to-date information in their profiles. Furthermore, with the average American spending up to 2.5 hours a day on social media and constantly interacting with different brands, social media platforms offer some of the best opportunities to showcase your brand and attract more candidates.
So, further developing your social media presence and reaching out to people on those platforms is going to continue being an effective recruitment strategy for your team next year.
Precision Searching with AI
Recruiters are always looking for ways to make placements faster, and 2023 will be no different. The best way to make sure that the candidates you are reaching out to will be placed in the role is by using advanced techniques to search your database. AI search technology can offer:
Term categorisation: Understands what the term means based on its context, not just what it says.
Term expansion: Helps you find relevant candidates no matter how they describe their jobs.
Term proficiency: Lets you specify the exact level of experience needed to fit the job criteria
Intelligent ranking: Ranks the best talent intelligently by relevance based on experience and proficiency, just as a human would.
So you can filter your search to a shortlist of the very best talent for each position and place candidates faster.
Sourcing Candidates in 2023
As we move into 2023, an uncertain economic climate might mean that successfully sourcing candidates will rely on search solutions that can help you find that hidden top talent. However, before you start digging through social media for hours on end, you can start with finding hidden gems in your own database.
Check out our article to see how you can start leveraging the candidate data you already have to get more out of your marketing spend.