The importance of talent engagement, no matter what stage in the recruitment process or lifecycle, is a growing concern for staffing firms. With talent shortages at an all-time high everyone is looking for strategies to connect to talent, keep them engaged and maintain a dynamic relationship.
This Bullhorn Webinar, Introducing Connected Recruiting, brings together Marketplace Partners in a discussion about what Connected Recruiting is and about the best strategy and technology to achieve it.
Hosted by Bullhorn's Catherine Carangelo, the webinar Marketplace Partner panelists include Chris Wirt of Daxtra, Raymond Pennie of Kyloe Partners, David Searnes of Haley Marketing and Jack Copeland of Staffing Future. They weigh in on plans and strategies to make the most of your tech stack to be able to achieve what Connected Recruiting has to offer — engaged talent with lower talent acquisition costs.
State of affairs
Today's talent and candidates are digital natives and consider technology to be an integral and necessary part of their lives. If a process can't happen in a few clicks it's seen as a burden.
They crave a consumer-like experience like those we see in other tests of our daily lives, whether that's buying something on Amazon or getting an Uber to the airport.
90% say they wish the process to find a job was easier
50% have banded a job process halfway through because it took too long
That said, 93% say it's easier to work with online staffing platforms. And a majority of the surveyed candidates say they still prefer to work with staffing firms. However, they prefer to work with an actual human who is more of a consultant.
We know the challenge this presents.
How do we fulfill that digital seamless consumer-like experience today's top talent expect while still being highly personalized and human throughout the process? How do we deliver the right message at the right time through every single point of the talent lifecycle?
What is Connected Recruiting?
Connected recruiting is a methodology based on the challenges Bullhorn customers are faced with and sets up a framework for overcoming these challenges. Through a collection of best practices, you can learn the best way to engage with your talent community.
More than just technology, these practices involve leveraging the technology you have to better engage with talent and giving you an understanding of the fundamentals of what it takes to reach your talent pool.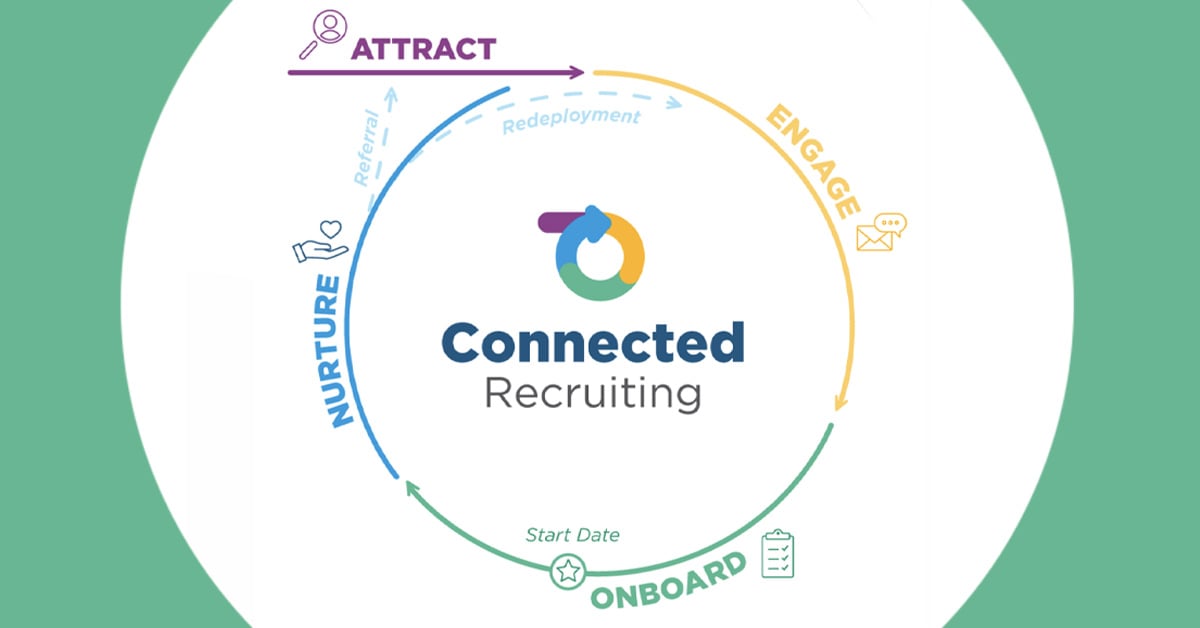 The talent lifecycle includes these stages where you can engage with intent.

Attract talent and engage them right from the start so they don't slip through the cracks
Engage the existing talent in your database with the right message and the right opportunities at the right time
Onboard talent with a seamless, positive experience from day one through the first weeks in their new role
Nurture talent throughout their assignment and increase your rate of redeployment and referrals
How to get started
To start down the path of Connected Recruiting one of the first fundamental things to consider is the integrity of your candidate data. Chris Wirt, of Daxtra, shared his analogy of building a house. You wouldn't want to build a house and install the heat or air conditioning before you put up the walls. "You really have to treat your tech stack like you're building a house, you know there are certain things that you have to do to ensure success in the connected recruitment cycle and really the number one is having clean and quality data."
When putting together a tech stack of automated engagement processes, before all else, you make sure the data you have is clean and rich in content. And have a process in place that going forward any data entering your system is complete, rich in content and clean.
Attract
Attracting talent starts early and is where the bulk of staffing firms are spending their time. Your thought process should revolve around the intent of the active and passive job seekers, how they'll find you, the kind of information they seek and how to get them to find you and the jobs you're offering.
Raymond Pennie of Kyloe brings to the table the idea of putting yourself through your own service experience to put yourself in the shoes of the candidate. "You want to look at how you can make that process easier and faster — sometimes simply, just more fun, and how can you make it more engaging." By putting yourself in the candidates' shoes, gaps become glaringly evident. Identifying and fixing the gaps sets you up for success.
On attracting candidates, Jack Copeland of Staffing Future stresses that "having some sort of short, medium and long-term plan is important… starting with some elements of low hanging fruit." The long-term plan is the backbone of the organization and often takes a lot of time and effort. So early on, begin to think about how you could apply processes to your workflows. Going after the low-hanging fruit at the beginning will ensure some easy wins at the inception of the plan.
One key element of the Attract portion of the flywheel that can be improved on is the application process. The drop-off rate in the completion of the application is a huge concern. Any additional data candidates are required to fill in increases the drop-off rate significantly. To remedy this, forms that are auto-populated directly from the candidate's resume have been a great success. Chris Wirt added, "Our customers have increased their click-through rates by over 400% just by implementing parsing technology that form fills all of those fields for the candidate."
Engage
The talent existing within your database is some of the low-hanging fruit Jack mentions and should be a top priority when we talk about engagement.
What works effectively and authentically? Raymond Pennie stresses the importance of personalization in communications. "I think that once they're in the database and candidates, you need to personalize as much as you possibly can. Simple things like making sure you if someone is known as Raymond – don't mistakenly call them Ray." The quality and cleanliness of your data are critical for this. You want to know their preferred name, their new skills and certifications.
First impressions count and to get personal information wrong looks bad. Show the candidate they're important by knowing this. This is achieved with clean, up-to-date data.
Segmentation also comes into play at this point. Many clients segment based on candidate engagement scores, how recent the latest touch point is, or even custom fields and triggers populated by campaigns.
All of this adds to the personalization of engagement communications. We also realize that in engagement, we could potentially walk a fine line between engaging and bombarding. We don't want them to unsubscribe. What we want is for them to become part of a holistic experience. Make sure it's relevant to them in terms of what they do. We want to build a good impression and subconscious message about who we are and what we do which is ultimately adding value to them.
Onboard
You have a captive audience. You have the right person. You've come this far so you have to get this right!
When we think of onboarding, we tend to think about HR administration and providing job information. But onboarding is also about setting expectations for performance and communication and ensuring the unasked questions are answered.
Whether it's via automated workflows, mobile apps, or helpdesk-centered communication systems, you can deliver an exceptional experience by sharing information that connected candidates want to know.
For the onboarding process, Raymond Pennie encourages us to think like the candidate – where they might be, what tools they have and understand what they're asking for. Communicate right away and know their preferred form of communication, whether it be email, SMS or other.
Nurture
Nurturing is the key to maintaining career-long talent relationships. It improves retention and redeployment, increases referrals and builds your employment brand.
Nurturing is also about delivering personalized experiences that recommend the right jobs, share the right content, and demonstrate real consideration for the people in your ATS.
It's not just about jobs and careers. Nurturing is about people. How will you use automation, and content to build long-lasting relationships with your talent?
David Searnes once again brings up first impressions and how important it is to set a precedence through seamless workflows that illustrate the ease at which your company works.
It's not a database, it's a talent community
Bullhorn CEO, Art Papas said it best in a keynote at this year's Bullhorn Engage – Treat your database like a talent community. They are people, not numbers, so deserve to be treated as a community.
To respect and come to know this talent community involves having their most fresh and current data. You've got to implement more effective and efficient search capabilities and automated matching capabilities, so you can make sure you're leveraging all of the candidates in your database at all times.
You can use technology and strategies to make sure that your database is being refreshed with the most up-to-date information, so make this a priority.
Implementing technology to integrate external job board solutions into one central source of truth, in this case - Bullhorn, is going to help you build a bigger talent community and get more return on your investment from external job board sources.
That, combined with constant engagement through automation and Bullhorn messaging, along with using advanced matching capabilities to serve up the right jobs to the right people at the right time, is the winning ticket.
We understand recruiters are working on countless numbers of recs at all times. Your database might have 10,000 candidates or 10 million candidates. With these numbers, it's impossible to task a recruiter with finding a purple squirrel or needle in a haystack.
"When you're dealing with this amount of data you've got to lean on automation and technology to get recruiters to a point where they can do what they're best at – which is building relationships with candidates."
– Chris Wirt
A methodology
Connected Recruiting is a methodology that empowers firms to create an ever-growing, consistently engaged talent pool while lowering their cost of talent acquisition.
In the increasingly competitive talent landscape, it's more important than ever for recruitment firms to elevate their talent experience and engage candidates at every stage of the talent lifecycle. Creating engagement consistency results in a lower cost to acquire talent and an increased redeployment rate.
Stay tuned for more Bullhorn webinars further exploring each of these phases.
---
Be sure to visit the Connected Recruiting site to learn more. There you'll find a library of best practice automation examples. Should you desire a Daxtra demo, please contact us here.