By Terry Bustamante, Sales Director, North America, DaXtra Technologies
One thing is abundantly clear as 2019 nears its midpoint: This is the year many senior executives in the recruitment industry have finally grasped the importance of deep learning and natural language processing.
Suddenly the blogosphere is bursting with commentary on these concepts — not only how deep learning and natural language processing is revolutionizing the candidate search process and making it more efficient and effective, but also how both technologies can dramatically improve recruiting departments' bottom lines.
While the chatter is welcome, the fact is that some of us in the recruitment technology (RecTech) industry have been working in this area for decades. In fact, at DaXtra we've built our business upon the conviction that the only way recruiters can manage their databases in the digital era is to deploy cutting-edge software that has the power to sort and file millions of resumes on the basis of linguistic nuance and context. This is referred to as Natural Language Processing.
What do I mean? Well, one obvious example that we've mentioned before is the letters 'MD' on a resume. Those two simple letters could mean everything from 'managing director' to 'medical doctor,' or even the U.S. state of Maryland. Any software worth its cost would accurately — and instantaneously — determine what a specific mention of 'MD' signified by reading the context in which MD is expressed on a particular resume.
I. Maximize your online recruiting sources
Upon getting a requisition many of us have gotten conditioned to be in the habit of running an external search on a favorite online recruiting source. Lack of faith in the quality of the data within, and the condition of our databases is one big reason.
Let's dig a little deeper into this by addressing another common problem facing recruiting department budgets today — paying twice, or even three times, for the same batch of candidates. Or, by relying on antiquated and menial data entry tasks from applicants and your own internal recruiters. These tasks include the manual input of resume data to create candidate profiles/applications and in most cases manual source tracking. If you're not automating these processes you're cheating your organization and your online recruiting sources. Let's be honest, if you're still relying on antiquated manual data entry processes, candidates may never make it into your ATS/CRM. And if they do it's with limited mandatory fields generally never exceeding more than 20 data tables. Not to mention, the ROI tracking for your online sources is often very inaccurate.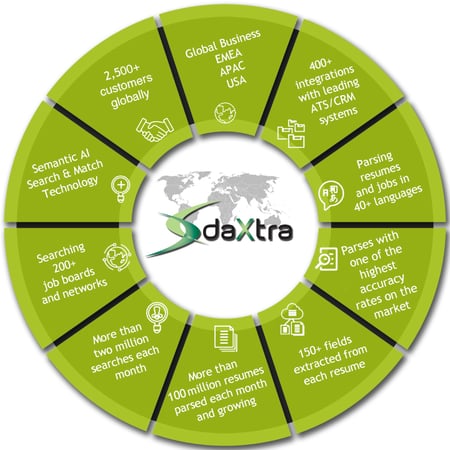 In this era of data overload, sometimes recruiters will subscribe to job boards in order to secure access to desirable candidates, only to discover later that many of those same candidates reside in their own database, buried under piles of unorganized files and unstructured data.
Think of it this way: Imagine there is an avid, but disorganized, vinyl record collector, who — delighted to find a long sought-after album at the local record fair — returns home to discover that he had the album in his collection all along. In fact, the coveted album was included in a bulk acquisition he'd made years ago, but it wasn't filed in alphabetical order or properly categorized. It was buried in dust in the rarely accessed 'Y' soundtrack section of his collection, when it should have been filed with the 'Bs' in the jazz section.
There's only one word that comes to mind with this scenario — waste.
OK, so maybe having an extra vinyl record wouldn't be so bad depending on how much you paid for it. If your hobby is collecting resumes stop reading but if you want to stop wasting marketing dollars please read on…
In order for recruiters to avoid this, they must choose Recruitment Process Automation software that can do all of this menial administrative work for them with a few clicks or through a single search. Software built from deep learning technologies will empower agencies and HR departments to get so granular with their searches that they will know about every candidate in their database — and never commit the folly of wasting what should be the nurtured talent pool of candidates you already have in your local database.
II. Process more resumes in less time
Another major pain point in today's recruitment industry is time poverty. New technologies and internet platforms have birthed endless streams of candidate data. An eight-hour workday does not provide nearly enough time for recruiters to sort and sift through it all.
At DaXtra we are positioned at the front lines of this data tidal wave. We process well over 100 million resumes a month across 40-plus languages, and 200-plus job boards — and we extract 150-plus fields from each resume or CV.
This data is funneled into your ATS/CRM and DaXtra's software solutions giving recruiters the unparalleled ability to search and organize the mix of data formats — whether Word documents, PDFs, spreadsheets, social media data, or emails – in their candidate databases.
Day in and day out we hear how recruiters are struggling to manage the endless flow of resumes. In fact, one of DaXtra's enterprise customers told us that in the past they would receive approximately 2 million resumes annually, but only five percent — or 100,000 — of the resumes would make it into their database.
That's right: Just five percent.
Why is that? Well, the client's employees were overloaded with menial data-entry tasks, desperately trying to ensure the candidate database was up-to-date and searchable. The problem is recruiters are mere mortals — and therefore aren't built to rapidly process such unimaginable volumes of resume data.
That's where the right recruitment automation software came in and solved the problem. Today, the percentage of resumes that this client processes has skyrocketed. They claim that 100% of incoming resumes are now making it directly into their database – and their searches are more efficient and accurate. Workflow productivity has also increased, and so has the agency's profitability.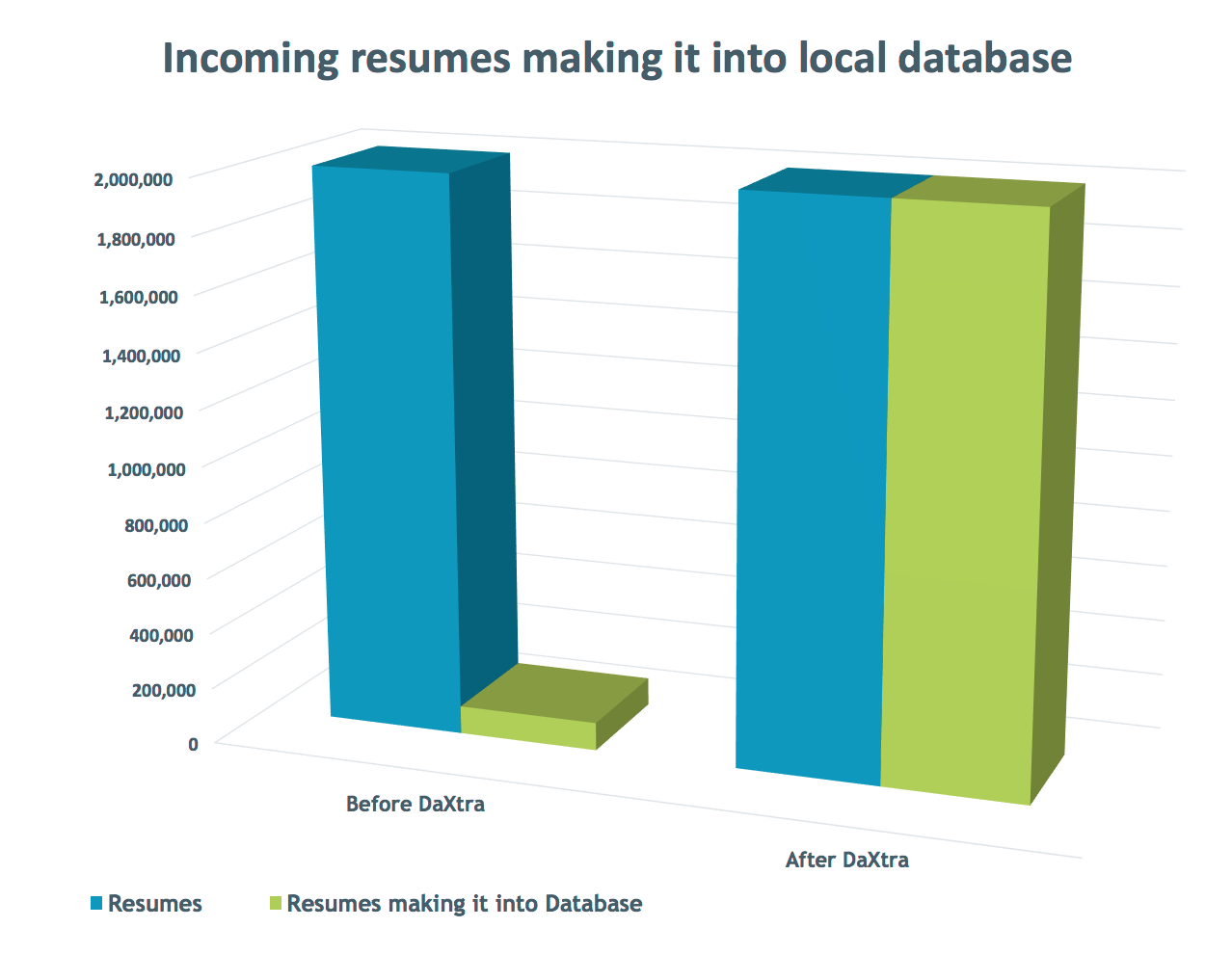 Let's not forget about the job boards, social sites and other sources resumes are coming from. They are now actually receiving the credit they deserve when automating the enrichment of candidate profiles and making placements through DaXtra, within your local ATS/CRM.
III. Action is necessary

In the end, of course, it's all about finding and placing the best candidates.
With the right recruitment automation software, candidate search effectiveness is vastly improved. Our research shows companies could potentially see an increase in local talent hires from around 15 percent to, in some cases, 50-plus percent.
That's quite powerful, isn't it?
All of which is to say, vocalizing support for deep learning and natural language processing in the blogosphere is a great way to get the message out. Automation, AI, Machine Leaning are all here to stay, whether the buzz words make you cringe or not. The bottom line is, these technologies will make your recruiters more efficient — not replace them.
But to truly improve recruitment automation and the quality of candidate search into the next decade, recruiters need to move beyond blogosphere chatter and embrace software built upon the latest technologies. Only then will they be able to efficiently manage their candidate databases, and conduct effective searches across various job markets, numerous languages, and — perhaps most importantly — multiple data formats.
Waste not, want not
It's an old saying that we've all heard. But what does it mean? If you make use of the commodity you already have, you will never be in need. There is an opportunity by using the right tools, to take advantage of the data you've already paid for, within your own database, and use it first before paying the same or different outside sources for the same candidate. Use what you own first before reaching out to external sources - making the most of the data you already have without letting it go to waste.