DaXtra and Herefish partner to streamline the recruitment process with market-leading automation
RICHMOND — December 10, 2019 — DaXtra Technologies, the leader in intelligent recruitment solutions and Herefish, the staffing industry's most innovative candidate nurturing solution, today announced an integration between the two technologies which creates an unmatched automation solution to revolutionize the way recruiters can engage with candidates.
The combination of DaXtra's search and match technology with Herefish's candidate engagement software will allow recruiters to find and match candidates to jobs and then automate the initial engagement with those candidates. This pairing will allow staffing professionals to search across their databases and external resume sites with DaXtra Search, then communicate with those candidates using Herefish's tools – enabling them to engage hard-to-reach, passive candidates.
DaXtra automates the matching of candidates to an open job or specified skillset. The matching candidates are added to a shortlist where they are nurtured in the form of automated engagement, with Herefish. They are then tracked, and summaries of candidate activity are generated, giving recruiters a better understanding of candidate behavior.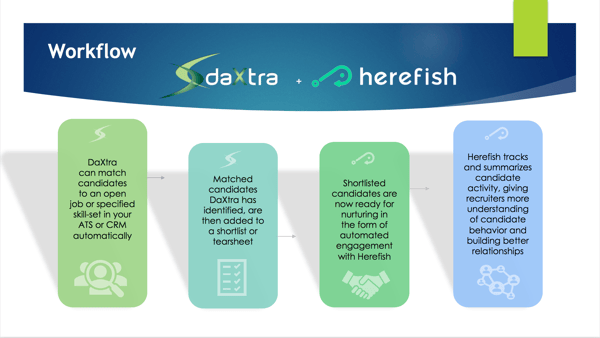 "We have a great relationship with the DaXtra team and we're thrilled to announce a deeper partnership," says Travis Arnold, CMO & Co-Founder at Herefish. "Now, DaXtra customers using Herefish can trigger automatic messages when candidates are matched with new job openings. This shortens the time to submittal, especially for high-volume and VMS business."
New and innovative recruitment solutions are developing as the recruitment industry realizes the importance of automation. With more advances in AI and Natural Language Processing, this trend for assigning routine tasks to automation comes in new and different forms. This duo is one of the many great creative solutions coming out of the recruitment technology industry as it evolves to meet the needs of recruiters.
Colleen Barraclough, VP of Operations, DaXtra Americas commented on the announcement, "Partnerships with companies like Herefish are a very exciting opportunity for our customers to leverage the technological advances created by the two technologies working together. This partnership allows our mutual customers to be on the cutting edge of autonetics in the staffing industry. Most importantly, it allows them the opportunity to make placements ahead of their competitors."
By utilizing each other's capabilities and strengths, together, DaXtra and Herefish look forward to delivering quality solutions and services to help recruiters become more efficient, competitive and profitable. This integration benefits the industry through quicker placements, better hires and reduced time to hire.
To learn more about the features and benefits of the partnership between Herefish and DaXtra's automated recruiting solutions, click here.
---
About DaXtra Technologies
DaXtra Technologies is a world leading specialist in high accuracy multilingual resume and job parsing, as well as semantic search, matching and aggregation technologies.
Since 2002, DaXtra has been at the forefront of innovative recruitment process automation solutions. We support clients globally via offices across Europe, USA and APAC, supporting 2,500+ loyal clients who collectively process in excess of 100 million resumes each month. With 400+ ATS/CRM integrations available and the ability to parse documents in more than 40 languages, DaXtra is the software of choice for many multinational organizations, job boards, software vendors and recruitment firms alike.
DaXtra Media Contact:
Christine Watson
804-767-1351, ext. 7011
c.watson@daxtra.com
---
About Herefish
Herefish helps companies easily and consistently engage with candidates in their database. By combining strategy, technology and execution, Herefish helps companies master recruitment marketing without learning additional software. At Herefish, we believe better candidate relationships lead to better insights, better relationships and better hires.
Herefish Media Contact:
Jason Heilman
314-399-9302
jason@herefish.com