DaXtra's core values revolve around client service

Pictured left to right, DaXtra America's Client Services Team: Thanh Luu, Installations Engineer; Amy Pierson, Account Manager; Angela Messina, Senior Enterprise Account Manager; Bartek Malon, Installations Engineer; Tim Johnson, Regional Sales Manager, Grzegorz Chrupek, Senior Installations Manager; Andy Daly, Installations Engineer; Steve Finch, DaXtra Founder and CTO; Chris Dues, Sales Director. Not pictured: Colleen Barracough, VP Operations US; Carmen Ford, Account Manager.
By M. Christine Watson, Marketing Director, DaXtra Technologies
In May, we at DaXtra's east coast US office in Richmond, VA, were thrilled to have our Client Services support team from the UK pay us a visit. Having them over here to collaborate, one-on-one, with the other half of Client Services, the account managers, was a valuable experience.
In a regular cadence, formally meeting weekly via computer or phone along with daily interactions, we feel like we know these guys well. But to have both parts of the team together for face-to-face interactions brought another level to the game. It brought us closer internally to be able to see and hear issues at hand and to interact together to solve them. We also brought a few sales people in from our Berkeley office on the west coast to round out the team, so it was a good feeling to gather and interact. Most discussions revolved around ways to better and more efficiently serve our clients, which has long been the drive behind the mission and vision at DaXtra. Our Core Values include a dedication to our clients and colleagues in bringing excellence in everything we do, including Sales, Service, Software and Support.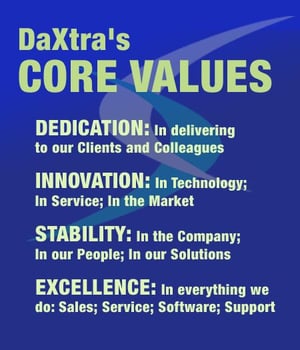 We realize that our client services team is our direct connection between our customers and our business at DaXtra. We want happy customers and go the extra mile to make sure they are satisfied with the products they have invested in. Our products are a source of pride and we know how much our clients rely on them to conduct their day to day business. With more than 17 years in the recruitment industry we understand the importance of listening and adapting to our customers wants and needs.
Part of how we gauge the satisfaction of our customers is not only through our extraordinarily high retention rate, but through the personal referrals we get. A good number of our new customers are through mentions of the benefits and efficiencies DaXtra brings from one business to the next.
To further expand efforts to be the best we can be for our clients, Colleen Barraclough, VP of Operations at DaXtra Americas, sought to bring her Client Services team together to be able to focus and brainstorm, in person with one another. "A good client experience from the sales cycle to project implementation to client services is key to Daxtra US's excellent retention rate and having all of these moving pieces together for the week only helped us to further that bond that already makes us such a great team. I loved having everyone, it was a great week," commented Colleen. Beyond developing camaraderie and trust, it's a proven fact that a happy, close-knit and loyal company internally tends to yields a happy customer base.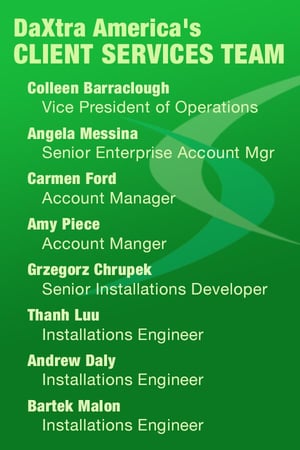 Flying in from Poland, was Grzegorz Chrupek, DaXtra's senior installations developer. From our Edinburgh Headquarters came Installations Engineers, Andrew Daly and Bartek Malon. From Berkeley, Angela Messina, our Senior Enterprise Account Manager hopped a red-eye to join us, as well as Terry Bustamante, Sales Director and his newest hire, Regional Sales Director, Tim Johnson.
Meetings, luncheons and outings, both work and fun, were had by all. But perhaps even more important, working together proved to be a success, as each party came away with a little more insight and knowledge about how the other works.
Coming together was not only a great team building exercise, but it has brought the DaXtra family closer. For a global company, meetings from afar can sometimes be a challenge. But with relationships long developed by constant contact and interactions on a daily basis, I can honestly say we have a great working relationship within DaXtra. And coming together as we often do, has reinforced our bond. Growing stronger is our ability to focus on and expand the relationships with our clients. Let's face it, a good product makes all of our jobs easier and we're all confident of that. And we're also positively sure that a positive client service team can only make DaXtra the best version of itself.