Switch on the news at the moment and stories about unemployment and job losses are hard to avoid. There's no denying it's tough out there, particularly for younger people who have been one of the hardest hit groups.
School leavers often default to jobs in the leisure and tourism sectors, both of which have been hit hard by the events of 2020. But there are rays of light streaking through some of this gloom. Not all sectors are struggling and many businesses, like us at DaXtra, are still looking to invest in talent.
The UK government has launched new schemes to support people whose jobs have been affected by the pandemic, in addition to existing initiatives – such as the apprenticeship scheme. We welcomed our first apprentices to DaXtra back in 2017 and we haven't looked back. Over the past three years, a dozen apprentices have joined our headquarters in Scotland. They work in a range of roles and departments from IT through to software development as well as client services.
What are the benefits of hiring apprentices?
The apprenticeship scheme is a UK training programme that combines work with learning and qualifications. Successful apprentices can achieve a full-time position, gaining a salary with the company in question as well as offsite classroom training. This culminates in the apprentice achieving a recognised qualification once the course is completed.
All of our DaXtra apprenticeship candidates are aged between 16-19 and join us on a 12-18 month scheme. They are employed directly by us and work full-time hours. Alongside the on-the-job training provided, each apprentice also has between 3-4 weeks of classroom training, with assessors visiting to ensure they are completing their coursework. One big plus point of the scheme is that the government pays the costs of apprentices' qualifications.
There are many and varied benefits of recruiting apprentices into your business, including:
Straightforward hiring process through your apprenticeship provider
Low investment for your business (with high returns)
Shaping the training of your candidates to fit your business
Tailoring learning modules for each apprentice around the needs of their role and your business
Creating opportunities for young talent to carve out a career, learn on the job, earn money, and achieve qualifications
In a nutshell, we're giving them real-world skills and real careers.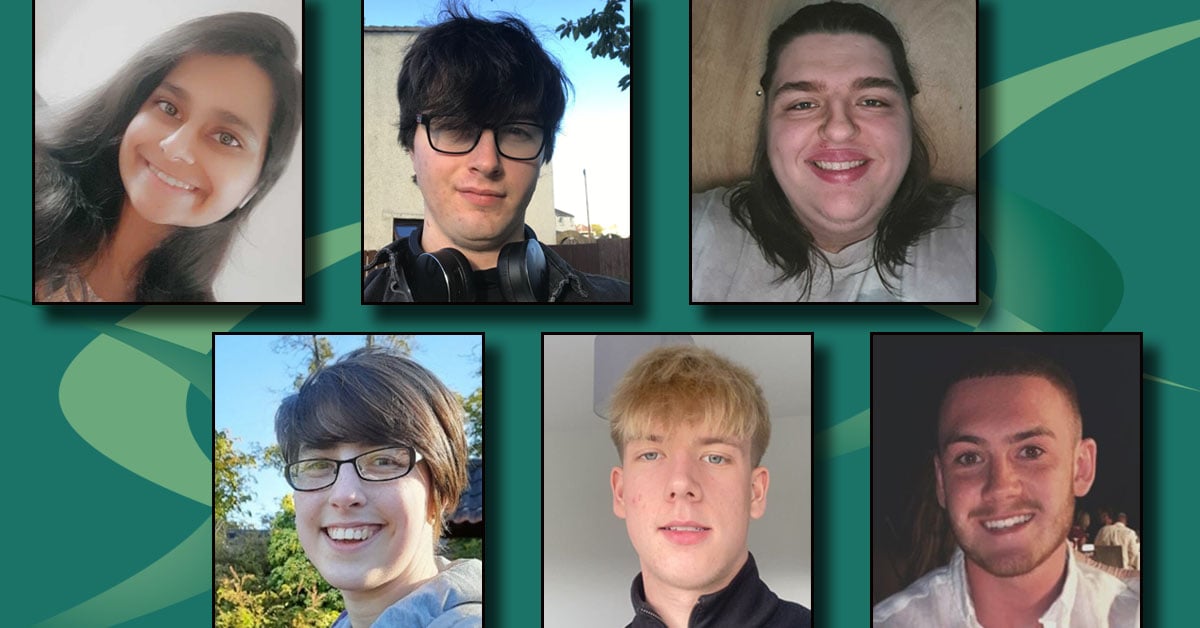 Some of our apprentices: Eisha, Alex, Travis, Julia, Nathan and Ross.
Ross Eaton, Account Manager, who started as an apprentice in 2018, says "My time at DaXtra has developed me, both personally and professionally. New responsibilities, tasks and scenarios are regular, all whilst having challenging, though achievable, targets to meet. This has given me career progress I am very happy with so far, as well as seeing myself grow as a person."
Nathan Gallagher, Client Services Apprentice, agrees "The thing I have enjoyed most about working for DaXtra is the way they brought me into the working world - before being employed at DaXtra I had no work experience. John and Ross have eased me into it, as over time they have allowed me to contact clients, write up contracts and let me to go onto a course to enhance my knowledge. Right now I am learning about a whole new world of work and businesses that operate in the technology sector. Until I started working for DaXtra, I didn't know how much went in the production and operations of applications, job sites and the tech behind it all. Throughout and after my first week, I was introduced to a wide range of products such as DaXtra Search. It's staggering how one product can simplify a process so effectively. So far I am loving my job!"
Recruitment, IT and technology-specific apprentices
These days, apprenticeships are available in a broad range of roles. As a technology company known for developing market-leading recruitment software, it made sense for us to focus on technology roles.
Finding an apprenticeship provider specialising in this area has ensured that we have continued our apprentice programme beyond our first hires back in 2017. Diversity of talent is important to us and we can see the benefits of hiring people of all ages and backgrounds. Even though we've been going for 18 years, there is definitely a start-up feel within our company culture.
Over the last three years we have hired 12 apprentices. Having been promoted internally, many are still with DaXtra carving out their career path. We're delighted to have played a part in developing their skills and creating the 'earn while you learn' opportunity.
Alex Fox, Apprentice Support Engineer, says "I've learned a lot from my time at DaXtra. What I enjoy the most is the satisfaction of knowing when you've helped out a client and getting appreciation from them. I also appreciate the support I receive from my colleagues – it's a pleasant team to be a part of and I enjoy the after work virtual parties!"
Travis Patterson, Apprentice Support Engineer, goes on "Working at DaXtra has been a great experience so far. My time in Support has allowed me to apply knowledge that I already possessed as well as learning a whole new realm of computing by learning to investigate and solve customer issues. My favourite part of working for DaXtra so far has been working with the Support Team as they have been a pleasure to work and communicate with."
Due to the current circumstances our apprentices have been working from home since the first lockdown in March. Some of them found it difficult at first as this is their first job and they missed socialising with colleagues, but after a period of adjusting to the new "normal" they now feel more confident.
Eisha Hamid, Client Services Apprentice, says "It's been an amazing experience so far, it's my first proper job but everyone is so supportive here at DaXtra, I enjoy working from home as personally I feel as though I am much more productive being in my own comfort zone. I honestly enjoy everything about my job, but learning more about the products is my favourite."
Choosing an apprenticeship partner
We use QA Apprenticeships as our chosen partner. They specialise in finding young people who are keen to work in IT and technology.
Some of the roles they have helped us fill are Software, Digital Applications and IT Professional Apprentices.
Keith Truslove, DaXtra's Account Manager at QA, comments "We have been working with DaXtra for three years now and have found some fantastic young talent to join as apprentices.
"With the longstanding relationship we have with DaXtra, I understand the calibre of candidates that work well for the business. The support our apprentices have received from DaXtra has been fantastic.
"The apprentices have really thrived in the supportive environment. The structure the modern apprenticeship scheme has given them to help upskill them within their role has led to some of the apprentices already being promoted within the company. This is a testament to the standard of candidates we have placed with DaXtra but also how invested DaXtra is in developing young people.
"Our main aim is to help young people at the start of their career to find roles they can build a career in and we have certainly seen that working with DaXtra. I look forward to placing more candidates with DaXtra in the future."
For us, as for many businesses both in the software and recruitment sectors and beyond, apprentices are a fantastic way to add young local talent to your teams. Moulding this talent and contributing to their personal development gives company-wide benefits both at a personal and financial level. It's often surprising how quickly apprentices are up and running and contributing to your bottom line.
We've been blown away by the ability and potential in the apprentices that we have hired. Julia, Alex, Nathan, Eisha and Travis – it's great to have you on board!