By Sergei Makhmodov, CEO, Asia, DaXtra Technologies
Although 2018 is shaping up to be a transformational year for recruitment technology (RecTech), one constant remains unchanged from recent years: all eyes are on Asia. Expectations are high that the region will continue to be the engine of global growth.
To be clear, it's difficult to talk about the world's most populous region as a single territory. What's true for one Asian country is not necessarily true for another.
Nevertheless, Asia's recruitment industry is in the middle of a significant paradigm shift, moving from a closed approach to a more open posture. These changes will only accelerate in 2018 and beyond.
Giants in the midst of transformation: Japan and China
No serious discussion of Asia is possible without first addressing the two giants in the region – namely, Japan and China.
First, let's look at Japan, by far Asia's most economically advanced market.
Japan's recruitment industry is undergoing a transformational shift as the younger generation changes jobs more frequently and eschews more traditional career paths. At the same time, the forces of globalisation are slowly deconstructing the country's 'salaryman' - or, stay-with-one-company-for-life – employment model.
This shift explains why DaXtra opened an office in Tokyo last October. We aim to help Japanese recruiters succeed in this new paradigm by ensuring they have the best sourcing tools at their disposal.
As for the other giant – China – well, you'd be hard pressed to find anyone who doesn't realise historic changes are afoot. Young Chinese professionals are fighting for positions at global industry leaders such as Google and Apple. At the same time, China's domestic champions are scouring the world for top talent as they expand at home and abroad.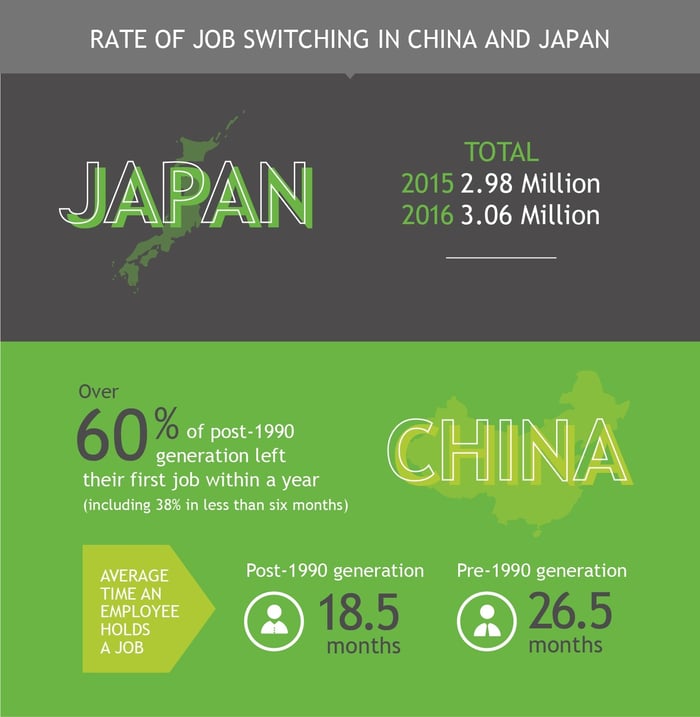 Rate of job switching in China and Japan.
Source: British Chamber of Commerce in Japan and China Daily
Addressing Asia's 'closed' approach
In many ways China and Japan could not be more different – linguistically, culturally, and politically. But when it comes to recruitment technology both markets present a similar challenge: local vendors' resistance to opening their systems to third party software tools.
Many recruiters in Japan and China, and in other Asian countries, rely on closed applicant tracking systems (ATS) that cannot interact or absorb third party software offered by cutting edge RecTech companies.
This means many recruiters in Asia are not benefitting from the innovation that is transforming the recruitment industry in more advanced markets. They remain frozen in time, and at the mercy of outdated applicant tracking systems that trap them inside a manual workflow, resulting in lower productivity rates.
China, to be sure, is making enormous strides in technology, especially the AI innovations by domestic champions Alibaba, Tencent and Taobao. But in terms of recruitment, China's approach is still primarily a conservative one.
As we make the rounds with potential clients in the region we often hear a common refrain: "We've used these systems for as long as we can remember and they've worked for us, so there's no reason to change now."
Of course, it bears repeating that this attitude echoes the attitude of many Western companies during the early noughties, when DaXtra was just starting and we had to convince clients in the UK and US that process automation is not necessarily a bad thing.
The long-term costs of resisting change
So, what can be done to change this way of thinking in the world's fastest-growing region? The first step is to make the case that there are significant costs associated with refusing connectivity with third parties.
In software, it's absolutely imperative that systems can "talk" to each other. That requires choosing systems that support open application programming interfaces (APIs). Open APIs allow internal IT systems to establish communication channels to external ecosystems that offer new, more advanced ways of finding candidates. (More on this in my other blog here.)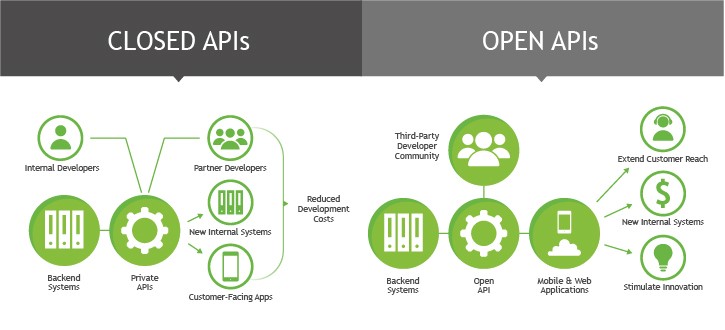 Open vs. closed APIs. Source: API Academy
Why is this important? Put simply, some of Asia's recruiters are losing money by operating the old way. That's because new technologies inevitably unleash new efficiencies, and increased automation reduces the need for manual processes.
All one needs to do is look at the rising labour costs in China to see that the old way is no longer viable from a cost perspective.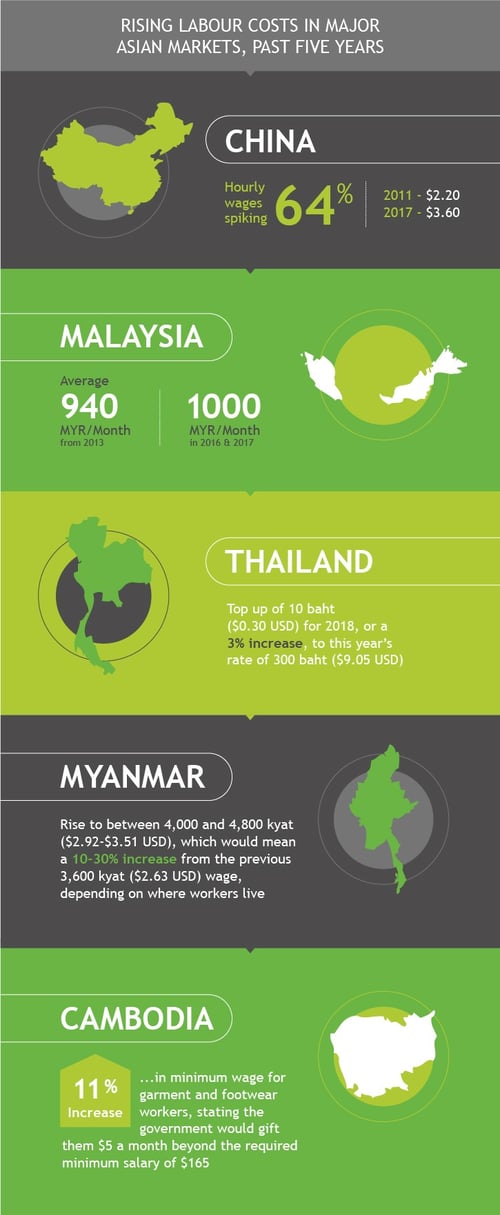 Rising labour costs in major Asian markets, past five years. Source: CNBC and Forbes
Second, if Asia's recruiters don't adopt a new technology now, they risk getting left behind – especially as new technologies are streamlined. The late adopters will become followers and they won't receive the efficiency gains – and increased market share - enjoyed by their more advanced competitors.
Behold the rise of local language AI solutions
One way to address this challenge is to ensure that gold-standard semantic and AI software is developed to "understand" Asian languages.
To that end, DaXtra is committed to offering our parsing, search and matching solutions in Chinese, Japanese, Bahasa and, more recently, Vietnamese, Korean and Thai.
Of course, some countries are home to domestic companies selling their own local language solutions. But the fact is recruiters in markets such as China and Japan will increasingly need English and other language capabilities as they place international candidates. It will be cheaper, and more efficient administratively, for recruiters to have one software vendor offering multiple languages, rather than numerous contracts with small companies offering only one language.

No one knows how long it will take for the majority of Asia's recruiters to open their systems to external software. But at DaXtra, in 2018 and beyond we will continue to show the value of cutting edge technology one client at a time – whether that's with the HR department of a multinational in Asia, or with one of China's largest recruitment agencies.
Time is certainly on our side: Asia's unprecedented economic renaissance shows few signs of abating anytime soon.