Intelligent tools are everywhere in the recruiting industry...
You've seen it, heard it, read it — AI, machine learning and intelligent tools are everywhere in the recruiting industry. The question is, does it work for others and
will it work for you? How do you build on your software to make it improve efficiencies and productivity?
Many of the top recruiting leaders in the industry use DaXtra products. The successes of the top Fortune 500 companies can speak volumes, too. A number of them are DaXtra customers.
Here's a few things your peers are saying about DaXtra: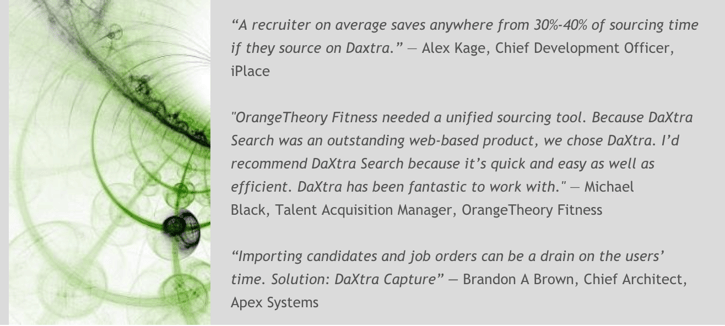 Integrating with hundreds of CRMs and ATSs, the versatility of DaXtra software goes without saying.
When it comes to AI and intelligent tools, our focus is on Machine Learning and Natural Language Processing. More than 16 years ago DaXtra got its start on these foundations by two PhDs at the University of Edinburgh whose academic research was based on Semantic Search — the concept of words, sentences and phrases, all key in NLP. Today, these are still the foundations of what DaXtra solutions are about. These solutions are available to help you grow your business by increasing efficiencies and improving productivity.
If you're interested in boosting your system by adding additional efficiency tools, drop by our booth #550 at HR Tech 2018 in Las Vegas next week and learn more about our individual products. Discover the role DaXtra products can play and how each may fit into your toolbox to strengthen and expand your CRM or ATS.
Hope to see you there!
If you can't make the conference and would like a demo of our intelligent solutions, please sign up here.
Discover all the reasons to not miss 2018 HR Tech here.