DaXtra is really excited to be sponsoring the Certified Recruitment Professional of the Year Award at the APSCo Australia Awards for Excellence 2018. This Award will recognise the highest achieving recruitment professional in Australia, who has completed their studies and passed the exam to achieve APSCo Certified Recruitment Professional status.
APSCo is committed to identifying, promoting and celebrating excellence in the recruitment sector globally. We are delighted to continue to support the APSCo Australia Awards - recognising individuals and organisations in Australia who demonstrate these high professional standards.
The APSCo Australia Awards Categories are:
Certified Recruitment Professional of the Year
Leadership Award
Managing Director's Recognition Award
Corporate Social Responsibility Award
Diversity & Inclusion Award
Creativity & Innovation Award
Health & Wellbeing Award
The shortlist was announced on 18th September: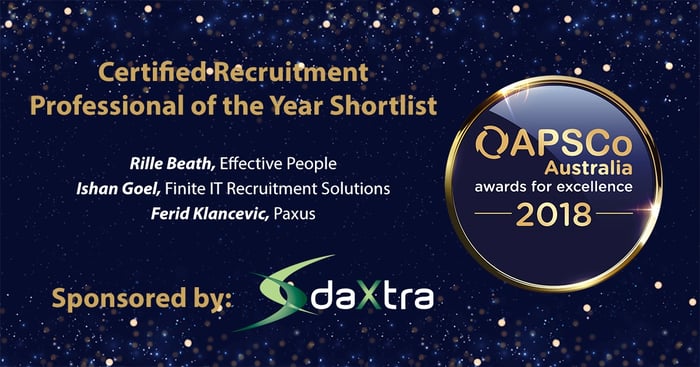 The APSCo Australia Awards will be presented at the APSCo Australia Gala Dinner on Thursday 18th October in Melbourne. We're looking forward to attending and meeting the winners!
DaXtra is a world-leading specialist in high accuracy multilingual CV and job parsing, as well as semantic search, matching and aggregation technologies. Let us know how we can help you streamline your workflow and automate your entire employment application process.