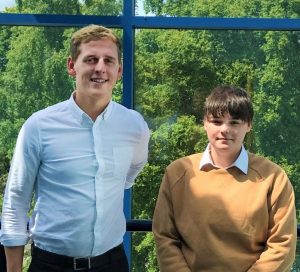 On Monday 3rd July we welcomed two new apprentices to DaXtra. This UK government incentive is an effective way of helping young people looking to get work experience while allowing the hirer to train them their way.
Callum Gray will be learning how to be an account manager
Ben Rothon will be learning how to do all aspects of internal IT
Welcome Callum and Ben!
Are you familiar with apprenticeships? These training programmes in the UK combine real work with learning and qualifications. The candidates get a full time position and salary with the company, as well as offsite classroom training and qualification once the course is completed. The modules can also be tailored around the business needs.
The candidates are all aged between 16-19 and come in on a 12-18 months apprenticeship where they work full time hours and are employed directly through the company. They also have between 3-4 weeks classroom training and assessors visiting to ensure they are completing their coursework. The government pays the costs of their qualifications.
Why hire apprentices?
The main benefits for the company are:
Giving young talent a chance to learn on the job, earn money and get qualifications
Low cost to the business
Easy hiring process – the hirer just completes the interviews
This allows us to train the candidates the way we would like them to be trained
The modules they complete for their qualification can be tailored around our business needs
We have used QA Apprenticeships to complete this process.
After an initial visit from QA to discuss the roles available and what we were looking for, we were provided with details of the courses available and the modules involved for each qualification. We were also shown the offsite classroom-based training they will attend at one of their Ofsted 'Outstanding' rated training centres. Their assessors will come in every 8-10 weeks to ensure the candidates are progressing.
Jackie Begbie, Account Manager at QA Apprenticeships, said "We worked with DaXtra this year to find young individuals who were looking to expand their experience within the workplace taking on exciting roles within a growing company. We are delighted that Daxtra have embraced the world of apprenticeships and hired two outstanding young people into roles where we have no doubt they will excel. This is not only down to the calibre of our talented apprentices but also to the supportive and nurturing environment DaXtra have created.
QA Apprenticeships recognises the need for continued professional development for its clients, staff and apprentices alike. Apprentices are a wonderful way to add young local talent to your teams - you will be surprised how quickly they are up and running contributing to your bottom line in a very cost effective way. The benefits to businesses are endless, you grow your own talent and mould it from within, and start developing the future directors of your business from day one.
Attitude is everything when it comes to finding the right employee nowadays. Employers are looking for people with positive, driven attitudes, who want to learn and develop their skills. We can offer them the chance to build experience and expand their skill set, but what you can't teach people is passion, the willingness to learn on the job and the drive to succeed. We've been blown away by the ability and potential in the apprentices that we have met and we were so excited to introduce Ben and Callum to DaXtra."
We look forward to recruiting more apprentices in the future!
— Solène Tatton-Brown, Daxtra Marketing Manager EMEA