Building Your Tech Stack
How to select recruitment technology that impacts your bottom line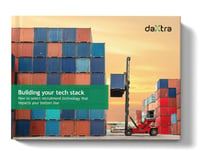 Technology has transformed recruitment and will continue to do so. The traditional metrics that have dominated the recruitment industry are becoming outdated. While placement fee revenue remains the ultimate metric for an agency, and time to hire for the staffing corporate, day to day performance metrics are changing.
With so much change, how can a recruitment team maximise its use of the right technology? How can you make sure that your tech stack doesn't become a Frankenstack?
We've put together our recommendations, based on years of experience helping recruitment agencies and in-house recruitment teams to choose the technology that's right for their business. We often need to help companies replace technology that's not working for them, so we've also covered the questions they wish they'd asked before buying.
In this eBook we'll outline how to select and implement new technology that will make your business more successful. We'll help you understand new recruitment data requirements and embrace changing candidate engagement, before we cover:
Reviewing your business practices, including training and culture
Assessing the utilisation of your current technology
Highlighting opportunities for change
Choosing a CRM – and what should be the most important factor in your decision
Researching available solutions
Getting buy-in across the business for your new technology
Technology is about enabling people to be more efficient, more effective and more motivated. To achieve this, you need to go about the process the right way – find out how in our eBook.