The Power in Automation -
How technology can reduce time to fill and grow your talent pipelines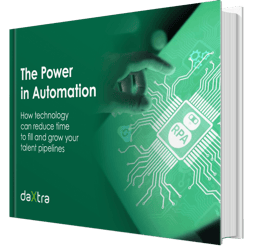 Recruitment automation has evolved. There's been a realization that automation is about saving recruiters time and increasing efficiency.
Automation can also help recruiters solve some of the most pressing challenges they face today. The Covid-19 pandemic has seen recruiters having to sort through more candidate data than ever before. They need to meet ever-increasing candidate expectations while also trying to hit their own KPIs and professional targets.
Implementing recruitment automation isn't enough to tackle these challenges. To see the right results, you need to make sure you're selecting the recruitment automation tools that will have the biggest impact on your business and feeding these tools with clean and accurate data.
In our eBook, The Power in Automation: How technology can reduce time to fill and grow your talent pipelines, we examine:
How the conversation about automation has changed over the last two years
How recruiters can use automation to improve candidate experience
How automation can strengthen your talent pipelines
Download the eBook today to see how automation can help you find better talent for your business.