RecTech 2020
Crucial Steps For Navigating A Maze Of Infinite Options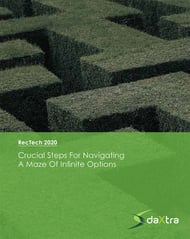 As we move through 2020, competition in the world's three biggest staffing markets (the US, Japan and the UK) continues to be fierce. Recruiters need to embrace technology to compete in the rapidly evolving digital economy.
Meanwhile, advances in AI and machine learning are driving the evolution of recruitment technology (RecTech) and fragmentation is accelerating at a rapid pace. The number of RecTech solutions on the market can now feel a bit dizzying - so many recruiters don't know where to start.
In this briefing paper, we offer three steps to help you navigate these options:
Understand the history of RecTech over the last twenty years, where we are now and and where the market is heading
Embrace the power of 'niche' - for every problem there is (now) a solution
Learn how to evaluate the RecTech options available and what to look for when choosing technology
Discover how to evaluate and navigate the recruitment technology market to find the right solution for your business.
Download the briefing paper